News
Back to...
Alexander Lifka Award laureate Christopher Hampton won the Academy Award for Best Adapted Screenplay
26.04.2021.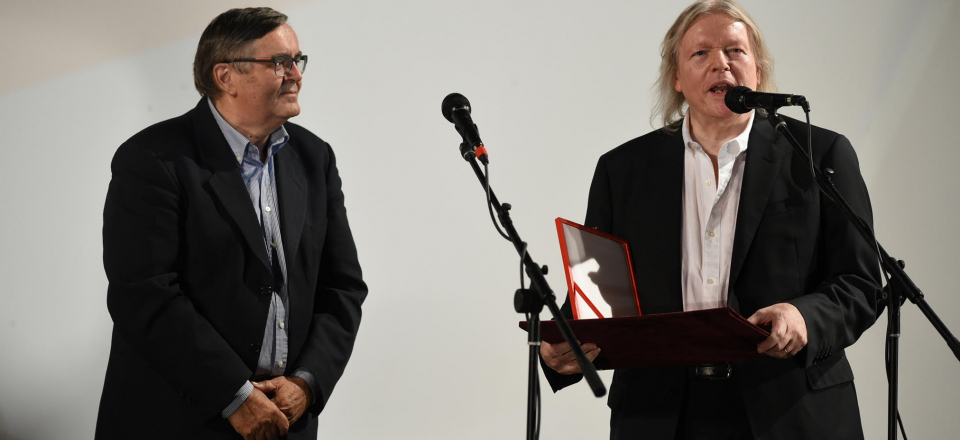 English screenwriter Christopher Hampton, laureate of the Alexander Lifka Award at the 2017 Palić European Film Festival, won the Academy Award for Best Adapted Screenplay for THE FATHER at the 93rd American Film Academy Awards at the Dollby Theater in Los Angeles. The prestigious award went to the Palić laureate along with Florian Zeller, the film's director and writer of the play that served as a starting point for THE FATHER, together with Anthony Hopkins and Olivia Coleman.
During his stay at the European Film Festival four years ago, when he was awarded on the Summer Stage in Palić for his outstanding contribution to European cinema, Hampton stated that screenwriters were not adequately evaluated, and that it was understandable that the film was primarily attributed to directors. The screenwriter of the films CARRINGTON, DANGEROUS LIAISONS, for which he won his first Oscar for adapted screenplay, and ATONEMENT, pointed out that the screenplay is the basis of the film.
"As a writer, your task is to cooperate with the director, to try to convince him of your idea. I think that the best directors understand that the script is the basis of everything ", said Hampton at the 24th European Film Festival Palić.
Pointing out that he loves the process of working with a good director, like Stephen Frears, his favorite filmmaker, Hampton said that the closeness established in that kind ofcooperation produces something better than one or the other could do alone.
"It's an ideal - to work so closely with the director so that in the end it's hard to tell who did what in a particular film. But yes, the screenwriters are not valued as much as they should be," said Hampton.
About the experience with the Oscar, which he won for the first time back in 1989, Hampton explained that, above all, it is wonderful to receive that award, since it also increases the price of the laureate. On the other hand, as he said, with that award comes some kind of nervousness.
"Six years passed after the previous Oscar before I could make the next film. The Oscar brings great benefits, but it also makes people think carefully before they approach you with a proposal", said Hampton in Palić.
Back to...