News
Back to...
István Borbás Underground Spirit Award laureate at the 29 th European Film Festival Palić
22.07.2022.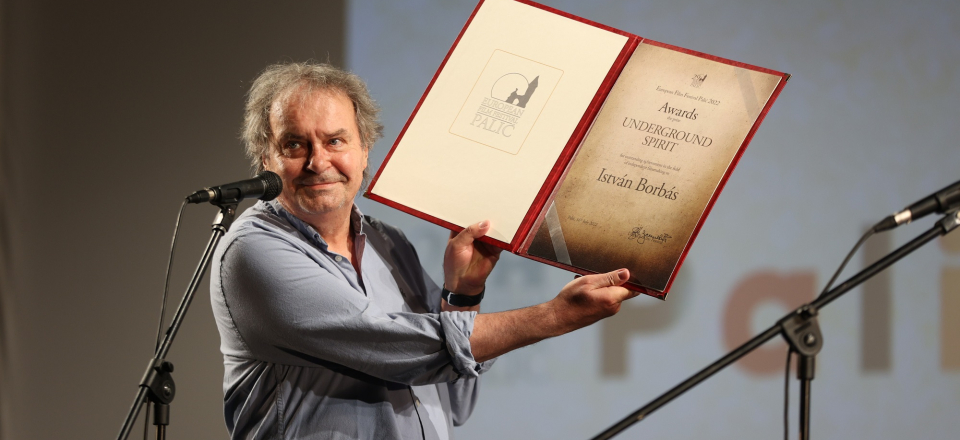 On Thursday, July 21, at the Palić Summer Stage, the Undeground Spirit Award was presented to István Borbás, Swedish cinematographer and director of photography. This recognition is asigned by European Film Festival Palić for an outstanding contribution in the field of independent film.
Miroslav Mogorović, programme director of European Film Festival Palić, presented the award to this year's laureate and said: "István Borbás is one of those artists who really marked film and cinematography. For him, the popular proverb that a picture speaks more than a thousand words applies in the true sense."
István Borbás addressed the audience with the words: "The result of my thirty years of work with Roy Andersson is that I am standing here in front of you. I am very happy to receive this award and I would like to mention that this is the most humane festival I have participated in". This year's laureate István Borbás, is a Swedish director of photography, commercial and feature film cameraman who was born in 1954 in Budapest.
During his career he shot over 50 commercials, several short films and five feature films. He worked with directors and artists such as Roy Andersson, Simon Staho, Miriam Bäckström, Stig-Åke Nilsson, Fabio Galli, Jonas Dahlberg, Ilmar Taska, András Surányi.
He began his collaboration with director Roy Andersson in 1984, and during the past 30 years he spent at Studio 24, they made countless commercials and films of varying lengths, from 15 seconds to 2 hours. Most of these projects were noticed in Sweden, but also internationally. His last film with Roy Andersson, A Pigeon Sat on a Branch Reflecting On Existence, was awarded the Golden Lion at the 2014 Venice Film Festival.
Back to...