News
Back to...
Milutin Petrović and Bad Blood: It was a destiny
22.07.2021.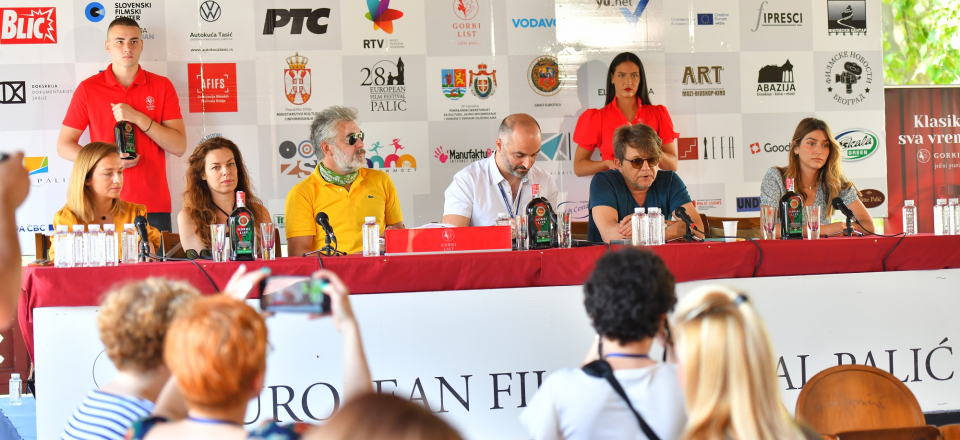 On the sixth day of the Palić European Film Festival, July 22, members of Bad Blood film crew - director Milutin Petrović, actors Dragan Bjelogrlić, Katarina Radivojević, Anđela Jovanović, and producer Snežana Van Hauvelingen spoke at a press conference on the Great Terrace. Conference participants were also lecturers at the DokSrbija workshop - Iva Plemić-Divjak and Miloš Jovanović, director of the The Island Within Ru Hasanov and Vidadi Hasanov actor in the film, then Alexandre Koberidze - director of What do we see when we look at the sky, Herendi Gábor - director of Toxikoma, Sanjin Mirić and Jelena Ćirić - director and producer of Seven Thousand Souls, film critic Neil Young -- lecturer at the film critics' workshop, and Ida Prester - lecturer at MIOB workshop, as well as Snežana Trstenjak and Zlata Popov in account of the Multimost Fest. A book about Nebojša Glogovac - Glogi by Aleksandar Đuričić was presented at the same place.
Milutin Petrović, the director of Bad Blood, referred to the script by Vojislav Nanović: "It simply came to our attention. I didn't look for scenario, the scenario found me. Since we have started working, until this moment, I have a constant feeling that Voja Nanović and Bora Stanković are present, so I am only an executor here, a performer of the scores."
Dragan Bjelogrlić, the main actor in the film, spoke about his role: "Certainly this is one of my most interesting roles. When I got the script to read, I saw that it was an extremely complex story and role. I didn't think much. The moment I read the last page, I knew I would accept to play it. There was no dilemma. "About the character of Hadži-Trifun, Dragan Bjelogrlić said: "It was interesting to me that he was a man who was always trying to fix the situation, to make moves that would do good to him and the people around him, but he did everything wrong. It reminded me a lot of Serbian mentality. I realized, as many times before, that all our writers told stories about us a long time ago. It is the mentality and the destiny that we carry deeply rooted within us. I had the opportunity to meet various Hadži -Trifuns in person, and unfortunately we all know them from our recent history."
Actress Katarina Radivojević spoke about Cona, the character she plays in the film: "She is Hadži-Trifun's sister, and she is the forerunner of today's modern woman. She is absolutely protected by her brother, and there is great brotherly and sisterly love. This is definitely a different role from all the roles I have played so far."
Actress Anđela Jovanović spoke about her role in this film, but also about the film itself: "Tašana, like the character of Cona and other female characters in this film, is ahead of her time. These are strong women who do not agree to be helpless victims, but fight for their own existence. Tašana has a very unrestrained but uncorrupted temperament. In the midst of her youth, she was in a way closed and shackled by social norms in a very strict patriarchal society. I think we, as a nation, will understand this film very well. I think it is important because it speaks of an important historical period for our country, which is deeply ingrained in our mentality and in our collective unconscious."
Producer Snežana Van Hauvelingen spoke about the challenges film crew faced during the filming: "The construction of the scenography took more than three months, we were caught by the state of emergency and postponing due to the epidemic, so the filming was difficult. But with the help of great authors, Marina Medenica - who made fantastic costumes, good scenography, director of photography -Erol Zubčević, good team and of course the great cast we had, it was a pleasure to work on this project. And a huge responsibility, of course, because as Milutin said - after so many years, we were, in a way, predestined to finish this film."
On the last, seventh day of the festival, on Friday, July 23, at the Summer Stage in Palić, Main Competition Program at 9 pm presents film The Duke by Roger Mitchell, while section Parallels and Encounters, at the cinema Abazija in Palić, presents films Ghosts by Turkish director Azra Deniz Okyay (5 pm) and Parquet by Russian director Aleksandr Mindadze (7 pm). As a special screening, first two episodes of a new Serbian series Kljun, directed by Jelena Gavrilović and Uroš Tomić, will be premiered at the Summer Stage in Palić at 11 pm.
The Festival will be officially closed at the Summer Stage with the awarding of the Golden Tower for the Best Film, the Palić Tower for the Best Director, as well as the Special Jury Awards. On the same occasion the Best Film from the Parallels and Encounters program will be announced.
Back to...